中国股票市场情况概述
01
The trade war is now the biggest risk to markets. The resumption of the trade war between the United States and China has surprised investors and hit global stocks. Since May 5, when President Donald Trump first tweeted his intention to raise tariffs on $200 billion of Chinese goods to 25%, the S&P 500 index has dropped 4.5%, led by the technology sector's 5.4% decline. Utilities stocks have held up best over that time, rising 0.2% since the trade conflict between the world's two largest economies re-escalated. The Dow Jones Industrial Average has lost 3.6%. While the broad S&P 500 is likely to remain volatile in the days to come—moving up or down sharply on every trade war-related headline—it's easier to predict the sector-level implications of a prolonged trade war. Technology, materials, and industrials companies stand to lose the most from a prolonged conflict. They have the greatest reliance on Chinese manufacturing, as well as a larger concentration of customers in China. 
贸易战现在是市场面临的最大风险。美国和中国之间的贸易战恢复令投资者感到意外,并打击了全球股市。
自5月5日唐纳德特朗普总统首次发布其将2000亿美元中国商品的关税提高至25%的意向后,标准普尔500指数下跌4.5%,其中科技板块下跌5.4%。公用事业股在此期间表现最佳,自世界两大经济体之间的贸易冲突再度升级以来上涨了0.2%。道琼斯工业平均指数下跌3.6%。虽然广泛的标准普尔500指数可能会在未来几天保持波动 - 在每个与贸易战相关的标题上大幅上涨或下跌 - 但更容易预测长期贸易战的行业层面影响。技术、材料和工业公司在长期冲突中损失最大。他们最依赖中国制造业,以及更多的中国客户。
The sectors face increased costs from tariffs or other trade disruptions, as well as falling sales if economic growth in China falters or the government responds with other, non-tariff barriers for foreign business. A proposed round of U.S. tariffs on an additional $300 billion of Chinese goods could mean that practically every item that China exports to the U.S. is slapped with a 25% tax by the end of June. 
如果中国的经济增长步履蹒跚或政府对外国企业的其他非关税壁垒作出反应,这些部门将面临关税或其他贸易中断的成本上升,以及销售额下降。美国对另外3000亿美元的中国商品征收的一轮美国关税可能意味着,到6月底,中国出口到美国的几乎每件商品都要征收25%的税。
02
According to the office of the U.S. Trade Representative, the top export categories from the U.S. to China in 2018 were aircraft ($18 billion), machinery ($14 billion), and electrical machinery ($13 billion). Count industrial names like Boeing (BA), Cummins (CMI), Emerson (EMR), or Ingersoll-Rand (IR) as particularly exposed to China, per Strategas Research Partners. A.O. Smith (AOS), a manufacturer of water pumps and heaters, derived about a third of its revenues from China last year. Its shares have dropped 10.3% since May 5. 
据美国贸易代表办公室称,2018年美国到中国的最大出口类别是飞机(180亿美元),机械(140亿美元)和电机(130亿美元)。根据Strategas Research Partners的统计,波音(BA),康明斯(CMI),艾默生(EMR)或英格索兰(IR)等工业品牌特别受中国影响。 A.O.史密斯(AOS)是一家水泵和加热器制造商,去年从中国获得了大约三分之一的收入。其股价自5月5日以来下跌10.3%。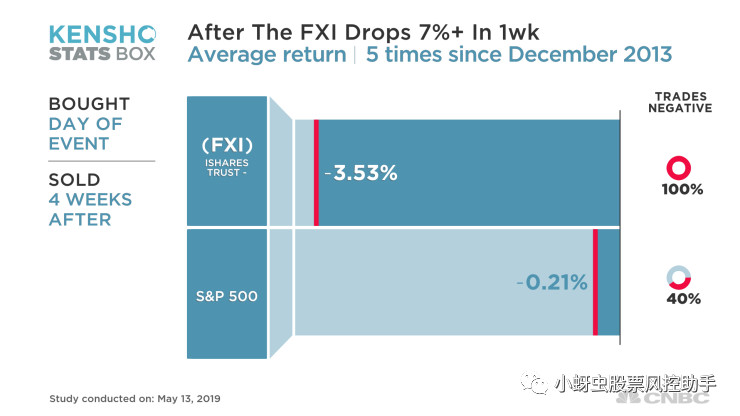 The values of industrial commodities like copper or iron ore are sensitive to global economic growth, and to the extent that the U.S.-China trade conflict leads to a drop in activity, their prices will follow. Copper prices have already dropped over 3% since the start of last week. Over that time, Freeport-McMoRan (FCX), the world's second-largest copper producer, has seen its shares fall 10.4%.
铜或铁矿石等工业商品的价值对全球经济增长敏感,而且在美中贸易冲突导致活动减少的情况下,其价格将随之而来。自上周初以来,铜价已经下跌超过3%。在此期间,全球第二大铜生产商Freeport-McMoRan(FCX)的股价下跌10.4%。
Chinese retaliatory tariffs have hit U.S. agricultural products particularly hard, including soybeans, of which the U.S. exported $3.1 billion last year. That's been tough for U.S. farmers, but the resulting oversupply has helped meat processor Tyson Foods (TSN) thanks to lower feedstock costs. Tyson's stock is up 6% since the trade war re-escalated last week. 
中国的报复性关税对包括大豆在内的美国农产品造成了特别严重的打击,其中美国去年出口了31亿美元。这对美国农民来说是艰难的,但由于原料成本较低,由此导致的供应过剩帮助了肉类加工商Tyson Foods(TSN)。自上周贸易战再次升级以来,泰森的股价上涨了6%。
03
Things could be more bleak from the Chinese stock market perspective. Chinese equities also experienced a bounce, up 2% on Wednesday, but it may not last long, according to a CNBC analysis of Kensho data.
从中国股市的角度来看,情况可能会更加暗淡。根据CNBC对Kensho数据的分析,中国股市也出现反弹,周三上涨2%,但可能不会持续很长时间。
The iShares China Large-Cap ETF (FXI) still tumbled more than 7 percent last week. Over the past 5 years, Chinese stocks have suffered similar losses on five other occasions, according to Kensho, an analytics tool used by Wall Street banks and hedge funds to mine market history for trading insights. 
中国大型股ETF(FXI)上周仍下挫超过7%。据Kensho称,在过去5年中,中国股市在其他五个时期遭受了类似的损失,这是华尔街银行和对冲基金用于挖掘市场历史以获取交易见解的分析工具。
After similar drops, the bearish trend continues, with Chinese equities trading negatively 100 percent of the time a month later, losing an average of 3.5 percent. During those periods, the S&P 500 has traded negatively 2 out of 5 times, with an average return of -0.21%.
在出现类似下跌之后,看跌趋势仍在继续,中国股市在一个月后的100%时间内出现负面交易,平均下跌3.5%。在此期间,标准普尔500指数5次中有2次交易,平均回报率为-0.21%。